24jan6:00 pm9:00 pmStartup and Entrepreneur New Year Party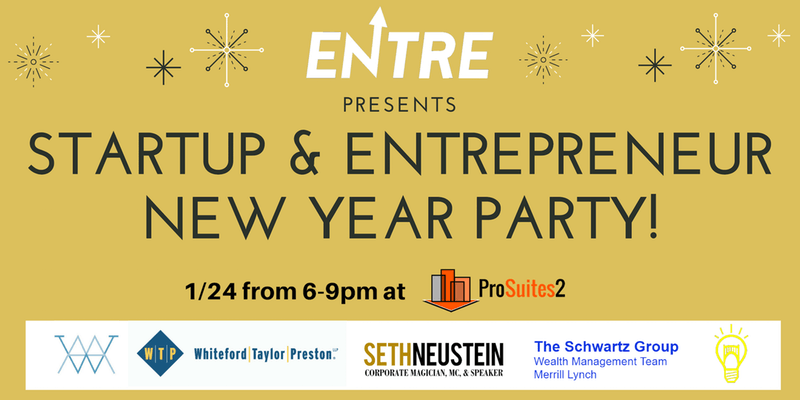 Event Details

Entre is a community for entrepreneurs, artists, creators, and innovators.

Our monthly events bring people together to openly discuss and share ideas with like-minded individuals. We welcome entrepreneurs of all types, start-ups of all sizes, industries and stages to join us in finding the inspiration, resources and friends that will make them successful.

Whether our members are just beginning to build a company, or are years into their venture, Entre aims to refer the best services available for helping them achieve their goals. We aim to work with sponsors and partners who share our vision in helping the start-up community grow and succeed.

EVENT LOCATION: ProSuites2 U.S. Steel Tower, 600 Grant Street Floor 49 Pittsburgh, PA 15219

ProSuites2 is Pittsburgh's Premier Coworking Space. ProSuites2 is more than sharing great office space at one of the most prestigious, downtown addresses in Western PA; it's about building community, enjoying a range of support services, and being inspired to take your business to new heights.

At ProSuites2, we've transformed traditional office space into dynamic environments for creativity, learning, and business building, complete with a view from 49 stories high!

A big thank you to our sponsors for this event:

Since 1933, clients have turned to Whiteford, Taylor & Preston for trusted representation and guidance on issues critical to achievement of their business goals. With over 170 attorneys in sixteen offices located in Delaware, the District of Columbia, Kentucky, Maryland, Michigan, New York, Pennsylvania and Virginia, we are one of the mid-Atlantic's leading law firms.

We advise clients on a broad range of corporate, litigation, technology and regulatory legal issues, both in the U.S. and abroad. Our clients range from Fortune 500 companies to small and medium enterprises to start-ups. They include businesses engaged in construction, finance, government contracts, higher education, health care, insurance, life sciences, manufacturing, nonprofits, real estate, securities, technology and transportation, among others. We help our clients arrange financial transactions, mergers and acquisitions and public offerings. Additionally, we advise companies and organizations of all sizes on tax, employment and real estate matters. Our litigation attorneys provide legal representation in court, arbitration and mediation, as well as before administrative agencies in a broad range of corporate, partnership, business and commercial disputes. While based in the mid-Atlantic region, we regularly represent clients throughout the United States.

Winter Accounting and Advising can help you spend your time focusing on your business, not worrying about accounting details and tax issues. We love assisting start-up companies as well as established small to medium sized businesses with their accounting and tax needs.

The Schwartz Team of Merrill Lynch serves as a resource for entrepreneurs by providing connections to our network in the Pittsburgh community as well as advice and guidance for newly successful businesses.

Seth Neustein is a corporate magician, MC, and speaker centrally based in Pittsburgh, PA and available nationwide.Contact Seth Neustein today for a free customized event consultation. Seth's one goal is to make sure your event is a big hit!!

Media Coverage by 412biz.com

To sponsor or get involved with the event contact michael@joinentre.com

Notice:

We may be taking picture and filming at the event for future promotions, by registering and attending this event you agree to be potentially in future marketing material.
Time

(Thursday) 6:00 pm - 9:00 pm EST
Location

ProSuites2

600 Grant Street, Floor 49 Pittsburgh, PA 15219